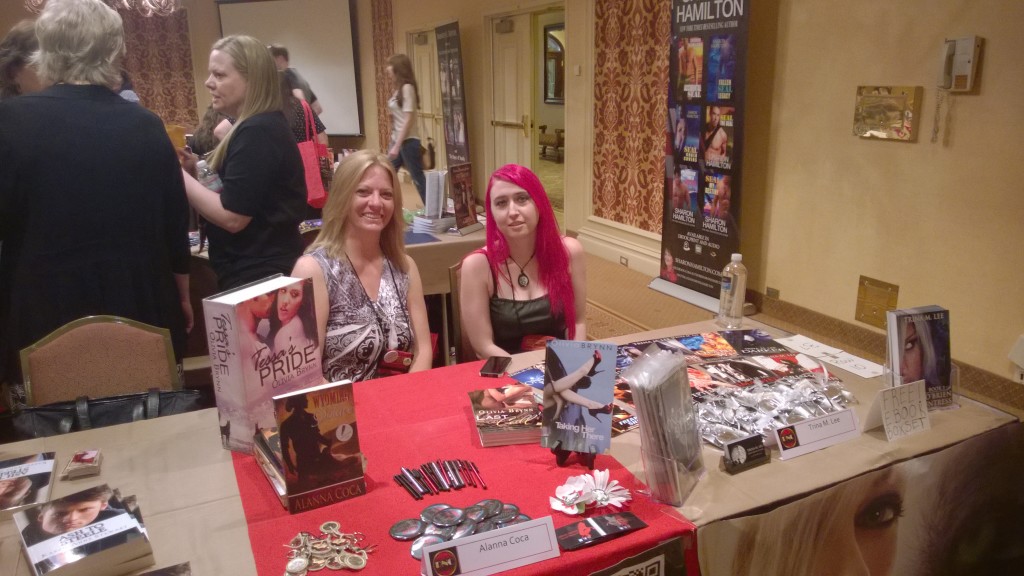 Hello! I'm back from the Romance Novel Convention! Here I am with my best author buddy Trina M Lee. If you're interested in more pictures from the convention, I posted them on Flickr, and of course I posted a bunch of Vines if you like six second videos. So I took some time off to recover from the trip and now I'm already anxious to get started again, so that's a good sign!  Now if only I could pick a wip to work on…
Favorite Song of the Week ~ I'm having a hard time categorizing this song. But the message is fun: Meghan Trainor's All About That Bass:
Backlist News ~ There's still time to get Flipped and Fine Print for FREE at Smashwords! 
Tweet of the Week ~
don't cry for the spiders you accidentally eat while asleep bc they know mouth spelunking is dangerous but can't resist the adrenaline rush

— huntigula (@huntigula) July 17, 2014

Industry News ~ By now you've probably heard about Kindle Unlimited. It's like the Oyster for Kindle devices. The good part is the fact that you don't actually need a Kindle device to partake in Kindle Unlimited. For $9.99 a month, one can read as many books (in the KU selection) as one wants! The problem I see with it are the fact that it's only going to have Kindle Select books in it (so authors have chosen to keep books off all other venues) and a few others. Although I would never make my books available on only one platform, Select seems to be popular with some authors, and more power to them. I hope KU is a big hit for their sakes.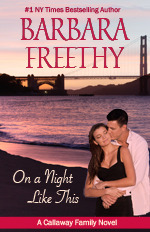 What I'm reading ~ On a Night Like This by Barbara Freethy. It's FREE right now! (I got it in a box set). Incidentally, it's also enrolled in Kindle Unlimited. Click the cover to open an Amazon tab.
The second oldest of the Callaway clan, Aiden Callaway veered from the family tradition of urban firefighting and became a smokejumper, never questioning his choice until the job took the life of his friend, Kyle, and left Aiden with injuries and fractured memories. Everyone blames Aiden for what happened, but he doesn't remember, nor is he sure he wants to remember. The truth may clear Aiden of blame but destroy Kyle's reputation and hurt the people he left behind. Aiden seeks help from an unlikely ally …
Sara had always been untouchable, sweet, innocent, his sister's best friend, and the girl next door. But one reckless night in their youth took their relationship to a new level. Sara has never forgiven or forgotten the way Aiden brought it crashing down, but she's no longer that girl with the crazy crush. She's a woman in search of her own truth.
The sparks between Aiden and Sara have been smoldering for a very long time. Sara is afraid to take another chance on a man who broke her heart, and Aiden knows better than anyone how dangerous an intense fire can be. As teenagers they weren't ready for each other. Are they ready now?
Today's Tearjerker ~ Another commercial. Sorry, but these advertising guys know their stuff!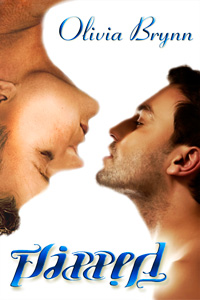 Book Snippet ~ From Flipped:
Mario was only one of three people in the world who knew Carter's history. Hell, Mario knew everything there was to know about Carter, and though the man loved to talk, he had never once betrayed that confidence or teased him about the incident.
At that thought, Carter realized the car was quiet. Rarely did Mario even turn on the radio, since he'd just turn the volume down or talk over it anyway, but now there wasn't even any chatter to fill the empty space.
Carter glanced across at Mario, whose brow was furrowed. The disturbed expression was uncharacteristic. Even more so than the silence.
Carter tossed his phone onto the dash. "Maybe next time we try the new place on Ninety-second Street. I hear they have half-price well drinks during happy hour."
"Sounds good." Mario's voice was rough, as if he was distracted and answering on rote.
"Or we could go to a country western bar. Swing dance with some ladies."
"Okay."
Yeah, Mario wasn't listening. Carter turned to the window to hide his grin. "We could always just stay home and play Scrabble."
"You cheat."
He glanced over at Mario and encountered a raised middle finger. "You think I wasn't listening?"
"I told you, you didn't have to leave the club. I could have grabbed a taxi."
"And I told you I was done."
"Then why are you being such a prick?"
Mario's face melted into a mischievous smile. "You are what you eat."
Okay, enough from me, you've got a beautiful summer weekend to enjoy! See you all next week.