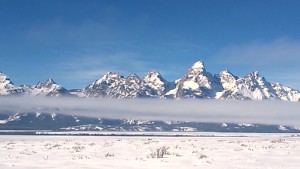 Howdy! I'm fresh back from Jack­son Wyoming, maybe one of the pret­ti­est places on earth. As long as I've lived here, I've nev­er vis­it­ed the Tetons in the win­ter. They're amaz­ing all year! I dis­cov­ered that Jack­son has a real­ly great library, where I sat in com­fy chairs with a view to the ski moun­tain across the street. It was won­der­ful, but I'm glad to be home.
Work in Progress News ~ I worked faith­ful­ly all week on Let­ters from Vic­tor. Around mid-week I opened up the orig­i­nal file, which was a whole dif­fer­ent begin­ning and scene, but I actu­al­ly liked it bet­ter than what I had, so I found a way to use that begin­ning and rework the rest so they both work togeth­er! Now the wip has a whole new life and I have high hopes that I can fin­ish this soon.
Favorite Song of the Week ~ SO glad I found the video to this. It's adorable.
Back­list News ~ I just saw the draft for the cov­er of At Ease. This is the M/F IR short sto­ry that Ellora's Cave pub­lished in 2011 and I sent it to Samhain when I got the rights back. I real­ly like the cov­er. A lot. Edits should begin on that soon, it's got a release date in August.
Tweet of the Week ~
"What if a third team came and attacked these two teams?" — my daugh­ter, not under­stand­ing football/making foot­ball more awesome

— David Waghal­ter (@dwaghalter) Sep­tem­ber 29, 2013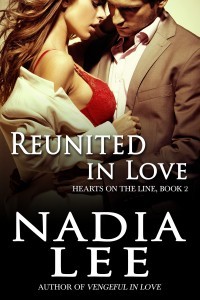 What I'm read­ing ~ I just fin­ished this one on my trip: New­ly job­less and adrift, for­mer invest­ment banker Ker­ri Wil­son trav­els to Vir­ginia to see her best friend and regroup, only to run into bil­lion­aire play­boy Ethan Lloyd. It's been years since she's snuck out of his bed after the most amaz­ing sex of her life, and he's so not her type — she likes them tall, dark and man­age­able. But he's too hot to resist, and she suc­cumbs to anoth­er siz­zling, no-strings-attached (or so she thinks) night.
Today's Tear­jerk­er ~ I meant to post this before Christ­mas, but I got super lazy: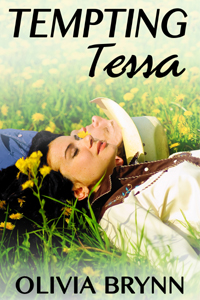 Book Snip­pet ~ From Tempt­ing Tes­sa, my free read pre­quel to Tes­sa's Pride I thought I'd post a screen­shot here so the for­mat­ting is better: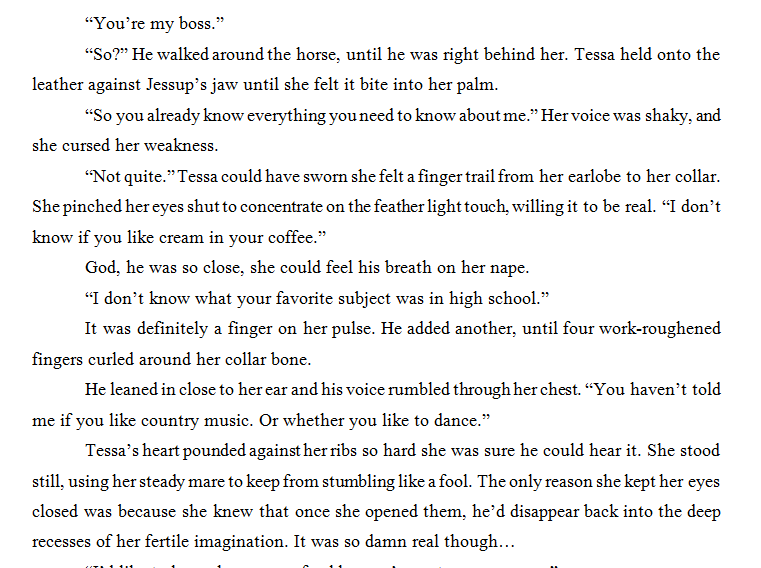 Okay, that's it for me. Have a great week­end, everyone!