Welcome! I hope you're having fun hopping along with us on this very festive New Year's Weekend! If you don't know me, I'm romance author Alanna Coca, also writing erotic romance as Olivia Brynn. I write mostly contemporary single titles, including westerns and interracial short stories, but I do have an historic western thrown in there. If you'd like a sample, I have some Free Reads! They're on the right sidebar as you scroll, so please pick one up in your favorite format. Visit my websites at your leisure by clicking my names above.
First, I'd like to share this video that Google made. Seriously worth 90 seconds of your time
Now I've got a little challenge for you. One of the following ten facts about New Year's celebrations around the world is NOT true. Can you find it?
1) In Spain, when the clock strikes midnight, they eat twelve grapes–one for each lucky month ahead. Are grapes even in season in January?
2) In Denmark, they throw dishes at other people's front doors. Those who end up with the most broken dishes on their porch are considered lucky, as they have an abundance of loyal friends. I suppose these folks feel pressured to have dinner parties after that, since none of their friends have any dishes left.
3) In Argentina, it's good luck to start off the new year by stepping forward with your right foot at exactly 12:00 a.m. Tough luck for one-left-legged Argentinians.
4) In Egypt, several villages dress their oldest living male resident in white robes, then parade him down the main road where the rest of the citizens pin watch faces onto his clothing. By the time the elderly man finishes his trek, his clothing could weigh upwards of 300 pounds! I'd hate to see what they do to their youngest inhabitant.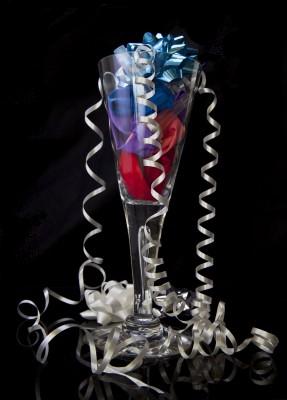 5) Residents of Brazil dress all in white on New Year's Eve to ward away bad spirits, then gather at the beach to toss flowers into the water to appease the goddess Yemaja. I'm all for living anywhere that I can be on a beach on January first.
6) In Columbia, you'd walk around your neighborhood carrying an empty suitcase to encourage traveling in the new year. Not sure what destiny a full suitcase would bring.
7) The Japanese ring a bell exactly 108 times, and they believe it is good luck to begin the new year laughing. This should be easy for us all!
8) Every year on Christmas Day, people in a small Peruvian village engage in fist fights to settle all of their differences so they can begin the new year with a clean slate. I think this is where Festivus came from.
9) The first Scot to cross a friend or neighbor's threshold bearing gifts of food, whiskey and money is called "First Footing". But what would happen if I'm visiting my friend and she's out visiting someone else?
10) In South Africa, they throw old appliances out of their windows to ring in the new year. Must be a pretty dangerous place for a stroll.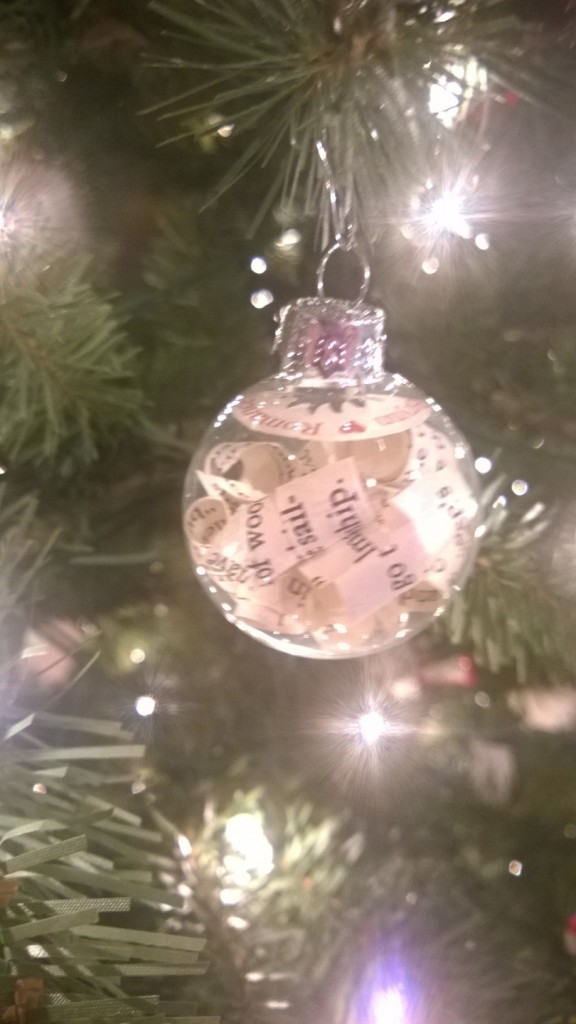 Okay, my challenge to you: Only one of the above ten facts is NOT TRUE! In your comment below, give me the fact number that you think is too outlandish to be true. I'm putting comments on moderation to hide them from the rest of you, because peeking! So don't worry if your comment doesn't show, it's there. Probably.
Everyone who's right will get one of my handmade Christmas ornaments pictured here >>
just in time for you to pack it away for next year! (sorry) So leave your shipping address in the comment, I'll keep the comments hidden so they won't show for anyone but me.
Everyone who comments will be put in a drawing for the winner's choice of a digital backlist title. Good luck, and enjoy! After you comment, click this big purple button to visit the next author's site. You won't want to miss this:

Happy New Year!