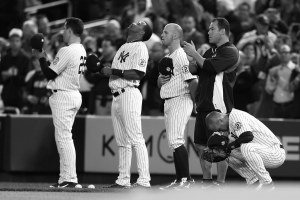 Sat­ur­day again! And it's Octo­ber, which means awe­some base­ball! Except my team did­n't make it to the post­sea­son, I still had fun watch­ing all year. So who do I root for to win it all?
Work in Progress News ~ I've been work­ing on my ski patrol sto­ry, titled Let­ters from Vic­tor. Maybe I'll get it done before ski sea­son! Would­n't that be great? I'll put sweet choco­laty offer­ings on my Muse's shrine, we'll see if that helps. I signed up for the Romance Times con­ven­tion in Dal­las in May of 2015, and I refuse to go with­out a new book out, so maybe that will light a fire under my butt.
Favorite Song of the Week ~ Kei­th Urban's new one. And his HAIR IS BACK YOU GUYS!! I real­ly like this song, but I might need a NSFW warn­ing on the video…whoo weee!!
Back­list News ~ As of tomor­row, my book AT EASE will no longer be avail­able. I got the rights back from Ellora's Cave, and it will be off the shelf as I pon­der its new home. I'm ridicu­lous­ly hap­py about this.
Tweet of the Week ~
I woke up with my cred­it card lay­ing on my key­board. I can't wait to see what drunk me bought for sober me.

— 333Nat (@_NTFG_) Jan­u­ary 20, 2013

Indus­try News ~ It's not real­ly news any­more, but a cou­ple of weeks ago, dig­i­tal first erot­ic romance pub­lish­er Ellora's Cave came under scruti­ny, then filed suit against their scru­ti­niz­ers. There are sev­er­al blog posts that explain the whole sit­u­a­tion bet­ter than I could. Here You Go. That should do it.
What I'm read­ing ~ Noth­ing new this week, I've been re-read­ing some old favorites. I can't be the only one who does this, right? I mean seri­ous­ly, there are some books I just can't get enough of. If they were made of paper they'd be pret­ty worn right now. Plus, I find it eas­i­er to fall asleep to a book I've already read. I've got plen­ty of books in my TBR, but if you've read some­thing recent­ly that you loved, let me know! My TBR can nev­er be too big.
Today's Tear­jerk­er ~
Book Snip­pet ~ From Let­ters from Vic­tor, my work in progress:
"I'm not in the habit of get­ting guys stu­pid drunk to seduce them."

Nathan set both bot­tles of water on the glass cof­fee table and leaned in. "Good thing then, because I'm not stu­pid drunk. I've got just enough in my sys­tem to make me think that bring­ing you here is a very good idea. And don't wor­ry. You're not the one that'll be doing the seducing."
Okay, that's it for me. Hope you guys have a great week­end! If you'd like to join in on the Sat­ur­day Sta­tus parade, just use the hash­tag #Sat­ur­daySta­tus so I can find you on Twitter.