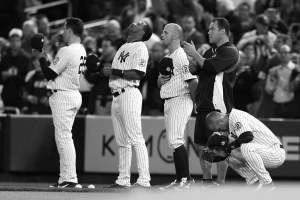 Saturday again! And it's October, which means awesome baseball! Except my team didn't make it to the postseason, I still had fun watching all year. So who do I root for to win it all?
Work in Progress News ~ I've been working on my ski patrol story, titled Letters from Victor. Maybe I'll get it done before ski season! Wouldn't that be great? I'll put sweet chocolaty offerings on my Muse's shrine, we'll see if that helps. I signed up for the Romance Times convention in Dallas in May of 2015, and I refuse to go without a new book out, so maybe that will light a fire under my butt.
Favorite Song of the Week ~ Keith Urban's new one. And his HAIR IS BACK YOU GUYS!! I really like this song, but I might need a NSFW warning on the video…whoo weee!!
Backlist News ~ As of tomorrow, my book AT EASE will no longer be available. I got the rights back from Ellora's Cave, and it will be off the shelf as I ponder its new home. I'm ridiculously happy about this.
Tweet of the Week ~
I woke up with my credit card laying on my keyboard. I can't wait to see what drunk me bought for sober me.

— 333Nat (@_NTFG_) January 20, 2013

Industry News ~ It's not really news anymore, but a couple of weeks ago, digital first erotic romance publisher Ellora's Cave came under scrutiny, then filed suit against their scrutinizers. There are several blog posts that explain the whole situation better than I could. Here You Go. That should do it.
What I'm reading ~ Nothing new this week, I've been re-reading some old favorites. I can't be the only one who does this, right? I mean seriously, there are some books I just can't get enough of. If they were made of paper they'd be pretty worn right now. Plus, I find it easier to fall asleep to a book I've already read. I've got plenty of books in my TBR, but if you've read something recently that you loved, let me know! My TBR can never be too big.
Today's Tearjerker ~
Book Snippet ~ From Letters from Victor, my work in progress:
"I'm not in the habit of getting guys stupid drunk to seduce them."

Nathan set both bottles of water on the glass coffee table and leaned in. "Good thing then, because I'm not stupid drunk. I've got just enough in my system to make me think that bringing you here is a very good idea. And don't worry. You're not the one that'll be doing the seducing."
Okay, that's it for me. Hope you guys have a great weekend! If you'd like to join in on the Saturday Status parade, just use the hashtag #SaturdayStatus so I can find you on Twitter.