Happy Easter/Passover Weekend! I'm currently organizing the annual treasure hunt for my daughter, even though she told me she didn't need one this year. I don't hide eggs because my dog will eat anything left out. And many things not left out.
Work in Progress News ~ A lovely reader emailed me (Olivia) asking about Rising Heat, the second book in the Earth Scents series, the follow up to Falling Star. That email got me thinking about that poor book. Rising Heat has been pushed to the back burner so many times. I blame Dean (the hero) for not speaking to me. I think we got into a never ending cycle of pouting. So I opened RH up, we'll see if I get any better results this time around.
Favorite Song of the Week ~ Modest Mouse is a really neat band. Last week they released a new album, this is their first single. The video is a bit…um…artistic:
Backlist Reviews ~ First, let me tell you that COMPANY INK is now FREE! on most etailer sites! (Amazon is always last to get the memo) Links are all next to the Company Ink cover right HERE. Okay, now a review for Cover Story, another short by Olivia that hasn't received many reviews. Holler at me if you'd like a copy in exchange for your opinion! This one is from Karen over at Goodreads:
Cover Story is a tastefully written and incredibly hot story that has you turning the pages to find out where the fantasy takes Cate. It is very sensual and I thoroughly enjoyed it. You'll find yourself wanting to read it again – preferably with a partner nearby! Fans of contemporary erotic romance are going to love this one.
Tweet of the Week ~
"I AM HAVING THE BEST DAY!" she screamed out her car window, donut crumbs tumbling from her mouth.

— slaughthie (@slaughthie) July 22, 2014

Industry News ~ By now you've heard about the Dear Author blog vs. Ellora's Cave publisher. This week Jane from DA announced that she'd been secretly published as a new adult author, she's been writing since 2012, and even has a movie deal in the works. My first thought was "wow, that's great, congrats!" My following thoughts were tangled. There are several authors who have put their unclustered views out there in the web, if you'd like to check that out. Grab some popcorn.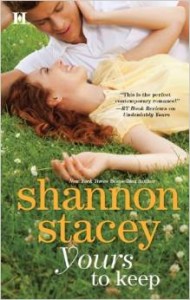 What I'm reading ~ Okay, I admit I bought this just because it's only $1.99, but I have read and enjoyed book one and two in this series. Click the cover to get your own copy while the price is so good.
Emma Shaw needs a husband, and fast! Not because she's interested in romance—after all, she's too busy with her landscaping company—but because Grandma Shaw is coming to town, and she will have nonstop questions about Emma's (stagnant) love life.
Sean Kowalski no sooner leaves the army than he's recruited by Emma to be her fake fiancé. Sean doesn't like the deception, but he can't help his attraction to the feisty brunette. A little pretend kissing won't hurt anyone—especially when there's no chance he'll fall for a woman with deep roots in a town he's not planning to call home. But when fake, innocent kisses lead to very real, explosive sparks, Emma and Sean discover that their big ruse might just lead to happily-ever-after….
Today's Tearjerker ~
Book Snippet ~ From Cover Story:
"Zoe says you're a banker." Bo lifted a strand of hair away from her temple.
She pulled her focus away from the mechanical monstrosity Keith was creating, and focused again on the man sitting close beside her. "Not exactly. Zoe tells people I'm a banker because it's easier to explain."
"So why don't you explain?"
She smiled. "It's not very interesting. I'm sure you don't really want to hear details."
"We're going to get pretty intimate in the next few hours." He raised one eyebrow. "I don't like to get naked with a complete stranger."
Keith snorted. "Liar. You'd take your clothes off to order a pizza."
"No one's talking to you."
The photographer snapped a picture of Bo's snarl. "Showtime, Romeo. Let's see some skin." Keith ducked back down, and snapped a few pictures.
Skin? I can't do this. Cate's hands were damp with sweat, and she'd tangled her fingers together almost painfully.
That's all I've got for you this weekend. If you celebrate Easter or Passover, have a great one! If not, enjoy your weekend!