So I've moved from week­ly blog posts to month­ly sta­tus updates. One would think this would free me up to write more, but that hasn't quite hap­pened. May has been a very busy month! Let's hope June set­tles down enough for me to be able to get some­thing done. I real­ize I haven't even post­ed a RT Con­ven­tion recap, so I'll post my slideshow for you to peruse:
.
I had such a great time. In pri­or years I'd sched­uled my time and kept busy doing so many things, this year I kind of took it easy, didn't rush to do any­thing, and just had a great time min­gling with every­one. Next year

RT

will be in New Orleans. I'm already excit­ed!
When I got back, it was straight into the finale of my daughter's soc­cer career. What a blast. I'm such a proud mama. After that, she  grad­u­at­ed high school, so I had invi­ta­tions to send, par­ty to plan.…busy busy busy.
I also got to see Ludovi­co Ein­au­di and his ensem­ble in con­cert in Boul­der, CO. If you don't know who this is, it's my plea­sure to intro­duce him to you here. (This is an hour long video, so feel free to play this in the back­ground as you go about your day.)Â Is he bril­liant, or what?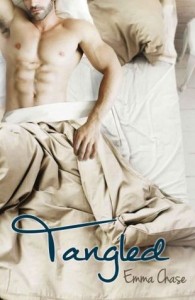 I did have time to read a few books, but I've got to tell you about Tan­gled by Emma Chase. I don't like to review books here or any­thing, if I men­tion I read it, you can bet I liked it enough to share, but this one real­ly is a great read. Â I love the author's voice. It's writ­ten in first per­son in the hero's point of view, which is unique. Here's part of the blurb:
Drew Evans is a win­ner. Hand­some and arro­gant, he makes mul­ti­mil­lion-dol­lar busi­ness deals and seduces New York's most beau­ti­ful women with just a smile. He has loy­al friends and an indul­gent fam­i­ly. So why has he been shut­tered in his apart­ment for sev­en days, mis­er­able and depressed? He'll tell you he has the flu. But we all know that's not real­ly true.
So there you go. That was my month of May in recap. Let's hope June brings sev­er­al great word-count days! I'd like to get back in the sad­dle.