Wel­come! You're on one of the amaz­ing JustRomance.Me blog hops! If you're just hap­pen­ing along my post, just click the ban­ner above to get on the guid­ed tour bus that will take you through a pletho­ra of romance author's blogs.
Before we get start­ed, have you ever won­dered how read­ing ebooks can off­set your car­bon foot­print?
Check out this page at AllRomanceEbooks.com where they do the math:Â
Okay, so the week we've had here in the USA is enough to make a per­son wish there was anoth­er big beau­ti­ful Earth we could escape to, where there isn't any­one out there try­ing to hurt oth­ers. Well, we've only got this one, and sci­en­tif­i­cal­ly, we're pret­ty damn lucky that all the cos­mos aligned so pre­cise­ly to give us life of all kinds. So I'll list for you some of my favorite things about our home plan­et, and the wild and won­der­ful set­ting of a few books, includ­ing Treat (Free Read!) Retreat, and Wyoming Solace, which comes out in paper­back on May 5th!
The scenery:
The books are set in the fic­tion­al V-Bar Ranch, which is based off the very real Vee Bar Guest Ranch, which is nes­tled against the Snowy Range Moun­tains. As the name sug­gests, the high alti­tude main­tains snow­pack year round. Though it's pret­ty crisp in the spring, the mod­er­ate tem­per­a­tures in the sum­mer are gor­geous.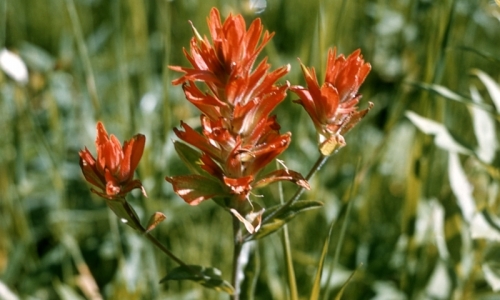 This is the Indi­an Paint­brush, or more pre­cise­ly, theÂ
Castille­ja mini­a­ta
, a native wild­flower, and the Wyoming State Flower. The Native Amer­i­cans used these to make their hair shine, and also for med­i­c­i­nal uses such as an immune sys­tem boost, treat­ment for rheuma­tism, and also to treat sex­u­al­ly trans­mit­ted dis­eases.
The fau­na:
Okay, so not the most majes­tic look­ing ani­mal in the state, but this is the Wyoming Toad, orÂ
Bufo (Anaxyrus) bax­teri
which was placed on the endan­gered species list in the 1970s, and assumed to be extinct by 1980. In 1987 a pre­cious few were redis­cov­ered. Now this lit­tle three-inch guy is only sur­viv­ing in cap­tiv­i­ty in a wildlife refuge near the Snowy Range Moun­tains.
To get you start­ed on your appre­ci­a­tion for Wyoming, you can down­load a zipped fold­er with sev­er­al Earth-friend­ly for­mats of my book Treat. Just click Treat — All For­mats to down­load. Also look out for Wyoming Solace in stores on May 7th!
Hap­py Earth Day Earth­lings! See you at our End-of-Hop Chat on Sun­day evening at 7:00 pm EST.