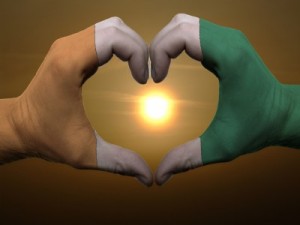 It's a beautiful day up here on top of this mountain. A dusting of frozen dew on the ground, but clear skies and no wind! It's going to be a great weekend.
Work in Progress News ~ I'm back to working on Dean. I've been bouncing around my wip file all week, and realized that my next conference is just over two months away, and I would really like to have something to promote while I'm there. There's no reason I can't finish this book, so back at it I go.
Favorite Song of the Week ~ It's March, which means you get to hear some of my old favorite Irish tunes! You're welcome. Dúlamán is a very old song, sung in Irish here, reworked for this a capella choir. You'd never believe they're singing about seaweed.
Backlist News ~ Today is the LAST day to get all of my Smashwords titles free for Read an Ebook Week! They're featured here at Smashwords, along with hundreds of other titles either free or at a discount. Have fun!
Tweet of the Week ~
I'm sorry I licked your face but you're wearing a Boba Fett shirt and I don't make the rules.

— Mistress Jedi (@JediGigi) February 26, 2014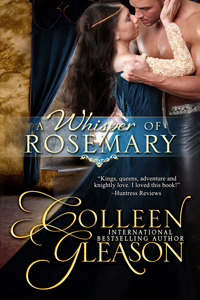 What I'm reading ~ Another historical romance from the box set I purchased a while ago that's now no longer available. This one I'm just starting, so I don't yet know much about it, but here's the blurb: Mistaken Identity
Dirick of Derkland cares about nothing but seeking vengeance for his father's brutal death. When the beautiful and spirited Maris mistakes him for her betrothed, sparks ignite, and he suddenly finds himself torn between honor and the only woman who may be able to heal his soul.
A Whisper of Rosemary
Maris is a gifted healer who can cure many ills with the herbs in her garden. But can she find a remedy for the danger and deception that threaten to keep her from the man she loves?
Today's Tearjerker ~ One of the most powerful One Second A Day videos you'll see.
Book Snippet ~ From my work in progress, as yet untitled, a friends-to-lovers story:
John stretched. It would be best if everyone here assumed he slept like a rock. "Give me a break. I'm on vacation."
"I know you are, sweetie." Judy set a plate piled high with fluffy pancakes down in front of him and planted a smacking kiss on the top of his head. "You work too hard."
He drizzled syrup on his pancakes. "Can I get that in writing?"
Kendall said something. Probably something snotty, but John didn't hear it. Hallie had opened the refrigerator, bent over to peer inside, and John went stupid.
She'd found the "perfect jeans" a few months ago, and bought out her size at the store. He'd seen her wear a pair just about every day. There was no reason for her ass to look that round. That tight. That perfect. She straightened, turned, and caught his eye. For the life of him, he couldn't look away or pretend he wasn't just checking out her ass.
His best friend's ass.
Hallie held up a carton of orange juice. "Want some?"
Get a grip, John. "Yeah, please." He shoved pancake into his mouth and again dropped his gaze to his plate.
Okay folks. That's it for me. Have a great weekend!