Wel­come! It's the end of August, and already it's cooled down here enough to make me turn on my heater 🙁 Why do I live here again? I missed last week's sta­tus because I was in St Louis! And yes, it was HOT there, so maybe I'm just nev­er happy.
Work in Progress News ~ I've been hop­ping around on wips this week. Haven't accom­plished much to speak of on any of them, but it feels good to stay busy. School start­ed on Mon­day, so I've got no excuse not to type my fin­ger­prints off.
Favorite Song of the Week ~ Every Breath You Take — or as my daugh­ter calls it "the stalk­ing song" by the Police as cov­ered by UB40. Because every song needs reggae-ified.
Back­list News ~ This week­end All Romance Ebooks is hav­ing a 30% rebate, and all of my titles (both Alan­na Coca and Olivia Brynn are includ­ed! It's a great week­end for romance.
Tweet of the Week ~ I laughed ridicu­lous­ly hard after read­ing this:
Just plucked out a nose hair that was con­nect­ed to my entire cen­tral ner­vous sys­tem and now my nose is leak­ing spinal fluid.

— EEEANJAY (@blondenorsky) Jan­u­ary 21, 2014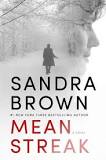 What I'm read­ing ~ While I was in Mis­souri, the newest San­dra Brown's newest book came out! I'm just start­ing it now. So excited!
Dr. Emory Char­bon­neau, a pedi­a­tri­cian and marathon run­ner, dis­ap­pears on a moun­tain road in North Car­oli­na. By the time her hus­band Jeff, miffed over a recent argu­ment, reports her miss­ing, the trail has grown cold. Lit­er­al­ly. Fog and ice encap­su­late the moun­tain­ous wilder­ness and par­a­lyze the search for her.

While police sus­pect Jeff of "instant divorce," Emory, suf­fer­ing from an unex­plained head injury, regains con­scious­ness and finds her­self the cap­tive of a man whose vio­lent past is so dark that he won't even tell her his name. She's deter­mined to escape him, and will­ing to take any risks nec­es­sary to sur­vive.

Unex­pect­ed­ly, how­ev­er, the two have a dan­ger­ous encounter with peo­ple who adhere to a code of jus­tice all their own. At the cen­ter of the dis­pute is a des­per­ate young woman whom Emory can't turn her back on, even if it means break­ing the law. Wrong becomes right at the hands of the man who strikes fear, but also sparks pas­sion.

As her hus­band's decep­tion is revealed, and the FBI clos­es in on her cap­tor, Emory begins to won­der if the man with no name is, in fact, her res­cuer from those who wish her dead — and from heartbreak.
Today's Tear­jerk­er ~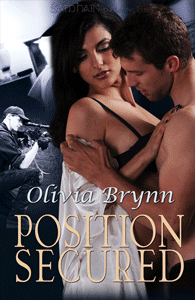 Book Snip­pet ~ From Posi­tion Secured:
He stood straight, and Mari felt the first stir­rings of embar­rass­ment. What had she just done? She didn't even know him! She avoid­ed look­ing at his face, but he cra­dled her chin in his hand and tilt­ed her head back so she couldn't help but look into two blue eyes.
Damn, her fan­tasies were good. She'd pegged this guy, right down to that glassy look. His pupils had dilat­ed. His breath came fast against her cheeks.
"Now that we got that out of the way, I think you can relax a lit­tle bit and enjoy the rest of this."
She swal­lowed. "The rest?"
He grinned. A cocky, preda­to­ry smile that only tilt­ed one side of his mouth, but crin­kled both eyes with mirth. "We're just get­ting start­ed." He took her hand and, like one hyp­no­tized, Mari fol­lowed him as he backed into her room and sat her on the bed. He strad­dled her knees and stood inch­es in front of her. She had to look way up to see him.
Okay folks. Enjoy your Labor Day Week­end. Grill some deli­cious foods, put your feet up, and send sum­mer off with a bang!